Blog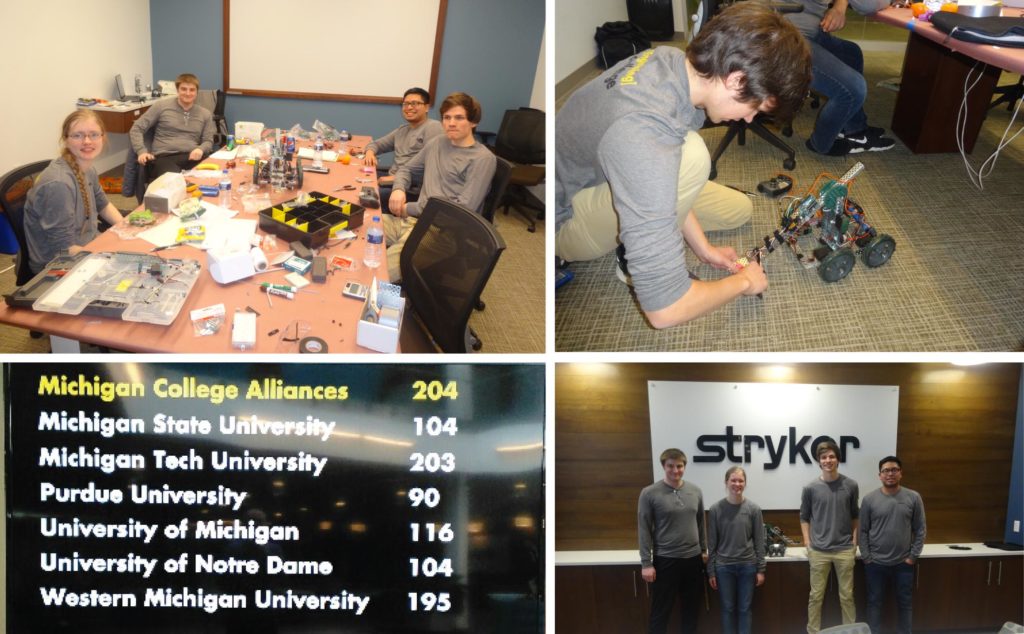 For the past five years, Michigan Colleges Alliance (MCA) has fielded a team of four students from its member schools with engineering programs to compete in the annual Stryker Engineering Challenge. For the first time this year, the MCA team won against competing teams from Michigan Technological University, University of Michigan, Michigan State University, Western Michigan University, Purdue University, and University of Notre Dame. The winners of the competition received a $1,000 scholarship (each) and an interview opportunity for a 2020 internship.
The Stryker Engineering Challenge is an overnight challenge where teams are given materials and approximately 12 hours to build a robot vehicle designed to navigate the challenge. Each robot is remote-controlled and tested in a 30-minute competition. During the competition, the robots are challenged to pick up Legos and race through an obstacle course. This year marked the ninth annual challenge with teams representing eleven different schools.
This is the fifth year that MCA has fielded a team. In 2015, the MCA team came in second place, and this year they won. The team was comprised of Devin Garcia & Jeremy Barrett of Andrews University, Denise Roorda of Calvin College, and Joshua Cormier of University of Detroit Mercy. The team took first place with 204 points and Michigan Technological University was a close second place with 203 points.
The students from the Michigan Colleges Alliance team had never worked together before the Stryker Challenge as they each attend different schools. Their victory is a testament to the high-caliber MCA schools and students, and their ability to work collaboratively in new situations.
Michigan Colleges Alliance is very appreciative of Professor Gunnar Lovhoiden, professor of engineering at Andrews University, who has served as the faculty mentor each year for this competition. Each year, he has generously donated his time during spring break to take on this role demonstrating an example of the strong student-faculty relationships valued at MCA schools. "The MCA team worked really well together and maximized their performance by making good design decisions," he says.
Hyun Kwon, chair of the Andrews University Department of Engineering, adds, "I am so proud of our students. They have proven the ability to successfully compete at such a high level and against much larger schools."