Archive for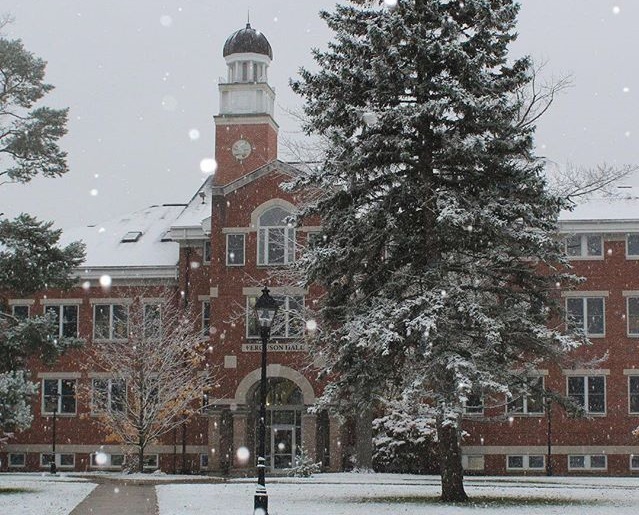 (Albion College, voted 12th Most Beautiful College in Winter)
It's winter, and the tundra is setting in – at least it is here in Michigan. The last thing you are thinking about is planning a trip to visit campuses. Those long walks across snow-covered quads are certainly less appealing when the temperatures are teetering at the same level as the number of layers you'll be wearing to stay warm. Or maybe you are a freshman or sophomore, and it's just "not time yet."
So, "When is the best time to visit?"  The answer may not be what you expect.  Here are some tips for getting the most out of campus visits:
Time of year:
As summer strolls in and the school year winds down, families across the country are gearing with plans to visit college campuses. Tours are crowded, staff is minimal, and quads are relatively barren. Although the summer months are more convenient for your time, ideally you should try to plan your visits when classes are in session and the campuses are full of life.  Think of it like trying on a pair of new shoes: do you get the proper assessment while sitting? No, you get up, walk around, and perhaps jog in them… as it should also be done visiting campuses. Simulate the day-to-day as if you are attending the school. It doesn't necessarily mean go in the dead of winter, but consider this: it may be cold, but it'll also be cold while you attend, won't it?
Age of student:
It can be very rewarding to visit colleges and universities before your junior and senior year (read: before it's decision time). You are less concerned about choosing and "buying" when you are simply "window shopping" and more interested in checking out the inventory. Expose yourself to as many different kinds of places—big schools, small schools, research universities, liberal arts colleges, urban campuses, places way out in the country—to develop a broad perspective of all the different options. Then, when it is time to make a decision, you'll have a better foundation on which to choose.
Before stepping foot on the first campus (and each one after that…):
Your new mantra: Relax, enjoy, decide later. Resist the impulse to judge immediately, good or bad. Your first reaction is bound to be emotional, and usually overly positive—college is really cool! Sleep on it. Weigh your impressions against the other schools you visit and try to remain as objective as possible so your rose-colored glasses don't allow you to overlook things.
How to choose:
As you visit the campuses, allow your senses to guide you. Really like something? Take note of it. Feel like something's missing? Take note of it. Gut instinct is usually pretty accurate. Additionally, the perceptions from your visits will come in handy when completing your college applications. Remember this: tying personal experience to the campus environment will blow the minds of the admissions department!
What to look for:
Focus on fit. We perform at our best when we have a level of comfort, belonging, and value. Questions to ask yourself: How does the college meet my academic needs? Will I be challenged appropriately? Is the style of instruction a good match for how I learn? Does the college offer a community that makes me feel "at home?" Does the college offer extracurricular activities that interest me?
After the visit, before you leave:
Connect with the recruiter. Colleges and universities typically assign admissions personnel to different areas of the country for recruiting efficiency. If your area's recruiter is available, definitely introduce yourself. Either way, get that person's contact information. Consider him/her as your "go to" person when you have important questions later in the admissions process. And remember this: there is nothing insignificant nor too embarrassing to ask. The admissions staff is there to help!
What to do next:
Record your visit. Make notes as soon as you are able. The more campuses you visit, the more they will begin to blend together, especially from memory. Take pictures to give yourself a visual index of what you've seen to avoid confusion later.
And finally:
Enjoy the process. It can be easy to get lost in the excitement and have that energy turn into anxiety. Relax. Start the search early. Visit during the school year to witness the campus's true environment. Trust your senses and take notes.
As you map your college visit road trip, include a few of Michigan's top 14 private colleges and universities on your list. These schools are purposefully smaller and emphasize "community over crowds." Often comparable in cost to Michigan's public institutions, the independents boast higher four-year graduation rates, outstanding faculty who help students forge their own paths, and smaller class sizes for a truly unique and personal experience.
Be bold. Be different. Go independent.